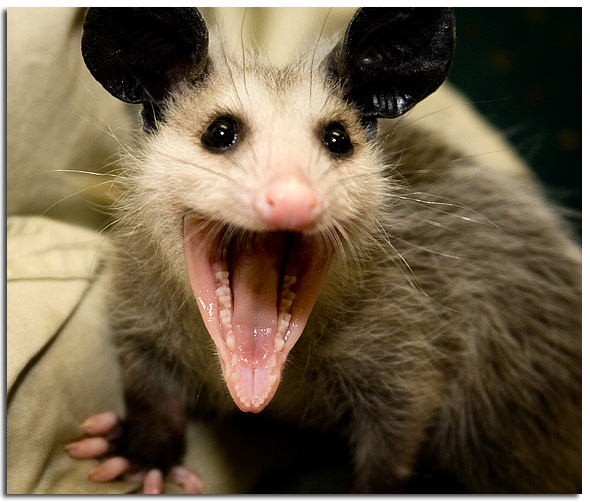 I'm reposting this, not just because I like the title, but because it is getting around to that time of year again. The picture to the left is just a very cute opossum, the picture below is the three baby opossums and this was originally posted at the start of April 2008.
Having just utilized the services of the
Santa Barbara Wildlife Care Network
to find a home for three baby opossums that were left in my yard I thought I would give them a plug here. The woman I spoke to on the phone said that in a few weeks they will be inundated with birds and mammals and can use all the help they can get. If you want to get some volunteer experience working with animals this is a great opportunity. Their new location in the Fairview Center is convenient for campus too. You can complete an
application on their website
and they can use you even if you can only spare an hour or two a week.
If you find injured wildlife during the day, you can take it to the Wildlife Care Network located near the OSH store in the Fairview Center in Goleta. After hours, weekends, and holidays, you can take it to the
C.A.R.E. Hospital
downtown (Garden & Haley) which is conveniently open 24 hours.